POEM (with insistence on plurality), Galerie Stadtpark, 2018-2019

'Up to and Including - Helen Grogan', Galerie Stadtpark, Krems an der Donau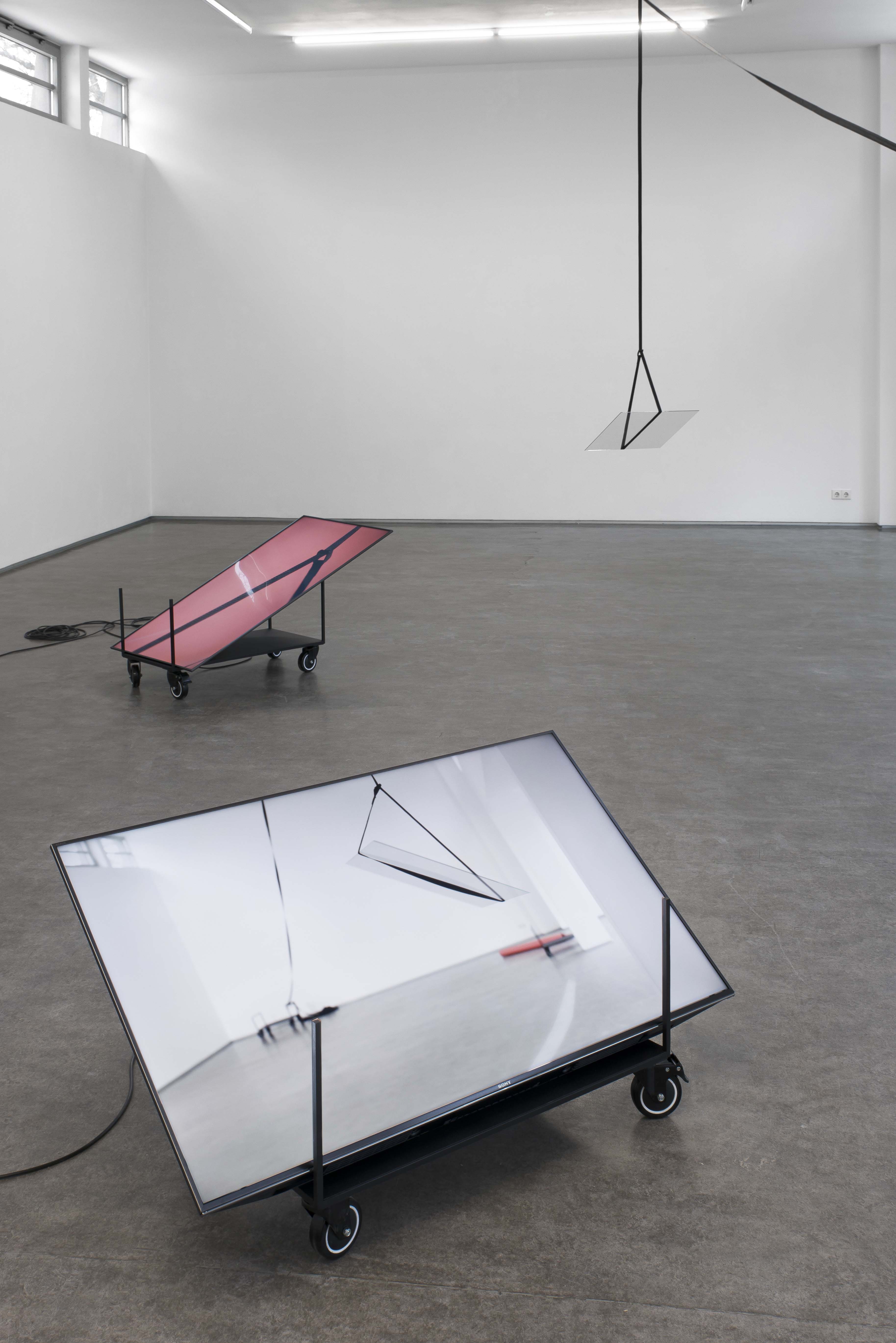 glass, transport strapping, tie down strap, canvas photography background screen, paper photography background roll, adjustable photography background crossbar, 2 x Sony Bravia screens 1230 cm x 753 cm each, 2 x single channel videos (and diegetic sound) with durations varying, looped, steel, epoxy enamel, casters, Galerie Stadtpark main exhibition space.

Installation Views. Photos by Stefan Lux. In 'Up to and Including - Helen Grogan', Galerie Stadtpark, Krems an der Donau is a solo exhibition curated by David Komary.


"Grogan's installations alternate between conceptual rigor and an aesthetic openness that can be experienced spatially in a more precise kinaesthetic manner, which at times also permits contemplative, even immersive moments. However, the viewer can never rely too long on one or the respective reading, interpretation, or categorization of what's seen, he/she can not fall back on a particular viewer's perspective or way of seeing. The artist works concisely with a provoked immersive or semantic collapse. The observer is confronted with a subtly overwhelming, contingent, but nonetheless non-arbitrary perceptual scenario, which essentially returns the responsibility to him/herself as a perceptual actor. Grogan works with a notion of expanded and conceptual choreography that shifts the clear division between author / artist and perceiver. In so doing she does not seek to create a meta-level superordinate to sensory perception that would merely (re) organize, configure, and therefore simply re-structure the sensory impressions hierarchically. Rather, Grogan aims at a "sensing" thinking, which always connects and relates cognition and understanding to sensory perception. Instead of clarity, assignability, and consumability of spatial perceptual events, the viewer finds him/herself in a deliberately epistemologically blurry perceptual scenario that does not situate cognition (epistemology) and sensory perception in opposition to one another but seeks their connection and reciprocity in order to create space for a kind of aestheticological cognition. (A.G. Baumgarten)

Grogan views the exhibition as fundamentally performative. The artist works with elements of spatial displacement, of shifting and reconfiguring in order to highlight the temporal-procedural dimension of the spatial. Her work seeks to create a kind of awareness of one's own body, an awareness of the productive potential in the process of perception, and the perception of an incessantly, albeit often imperceptibly shifting presence and reality.

...Visitors are prompted to survey the installation, which begins by subtly choreographing their movements. Almost incidentally and matter-of-factly they also "encounter" two screens—what already count these days as conventional flat screen televisions—which provide fragmentary and excerpt-like shots of the spatial scenario. Presented are film sequences depicting the space in a highly intimate and poetic manner, e.g. a close-up shot of the slowly rotating glass surface suspended from the ceiling. However, viewers are also confronted with picturesque overall views that also repeatedly depict what's seen and heard on the periphery, i.e. the "aura" of the exhibition space, including objects lying around the exhibition building, doors opening and closing, etc. The imagery makes the individual objects seem like spatial agents, at times even "protagonists" with unique characters and expressions. The presented images, conceived from the outset as essential parts of the installation, are therefore not simply shots of the process of setting up the installation, but call into question the object-protagonists in a pictorial (filmic) manner, investigate how these all "behave" in the space at various times, representing an essential integral component of the installative structure.

Grogan examines in a sculptural-spatial, but also a temporal and process-reflexive manner the concurrence of object (s) and exhibition space. This practice and rehearsal in space is a result not only of the interaction and interplay of the objects but also of the variability of their aesthetic status.

- David Komary, 2018 (excerpts from 'Up to And including')