splitting open the surface on which it is inscribed, 2018

In 'Great Movements of Feeling', Gertrude Contemporary, Melbourne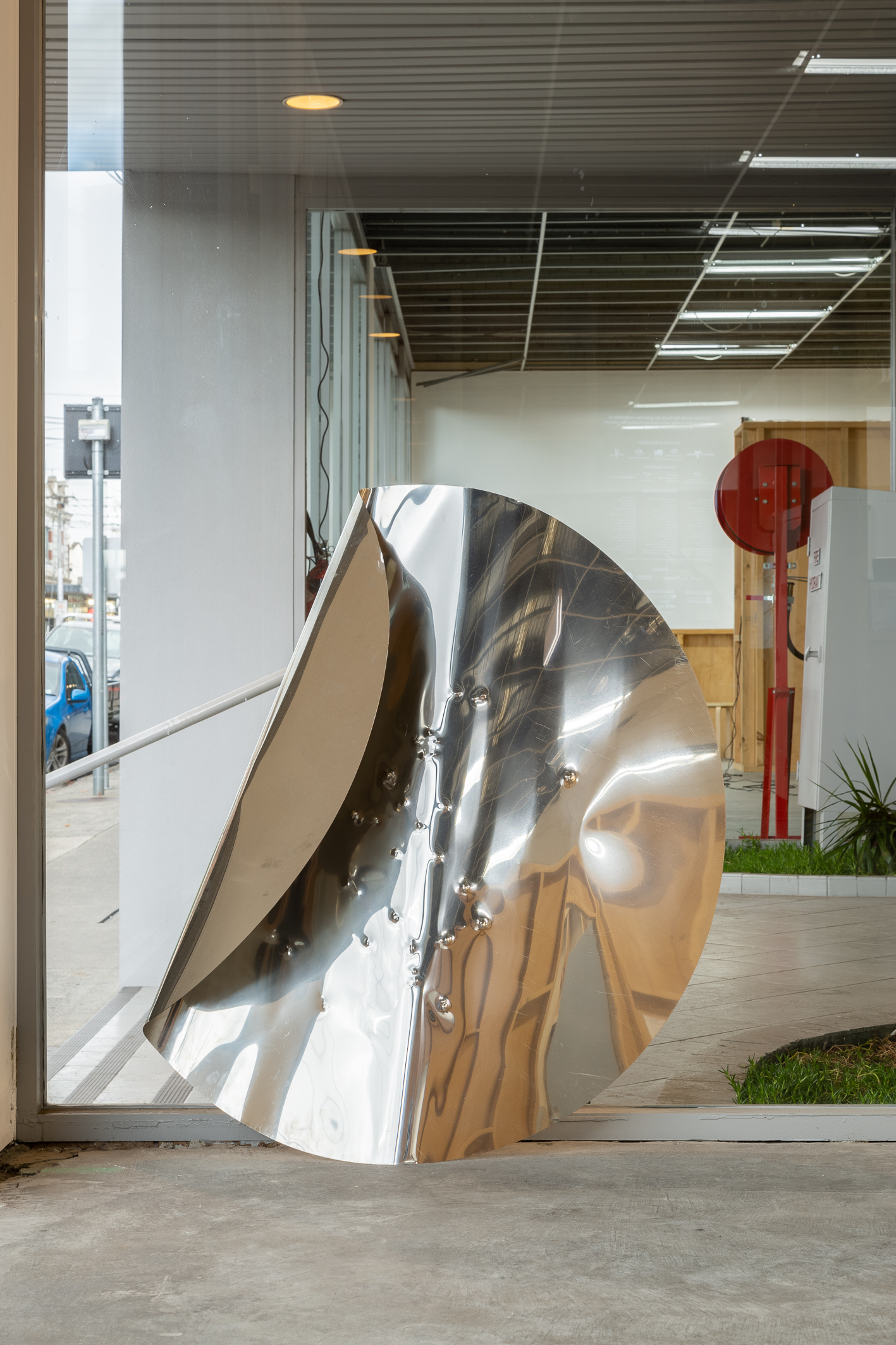 3 channel video and sound recording (14:50 min), synchronized and looped), 3 x Samsung UA50MU6100 screens (65 x 112 cm each), 2 x headphones, Gertrude Contemporary foyer, 0.7 steel sheeting (110cm diameter in circular form), choreographic score designed for continuous filming in three 50mm views.

Choreographic score design and development: Helen Grogan. Choreographic score enaction for Gertrude Contemporary foyer site: Shelley Lasica. Sound Recordist: Liam Power

Installation views in group exhibition 'Great Movements of Feeling' curated by Zara Sigglekow for Gertrude Contemporary. Photos by Christo Crocker. Lilac Session/Discourse for studio site: Atong Atem, Jess Gall, Laura May Grogan, Simon MacEwan, Liam Power.



"Helen Grogan's practice is concerned with systems of observing, sensing, and locating. She is hyper-aware of the ethical tensions of the subject viewing an object, an audience viewing a performer, and seeks to disrupt this relationship that can be fraught with power imbalance. splitting open the surface on which it is inscribed (2018) is an exploration of the agency of an object. That is, how to work with an object with limited subjective impact and reveal its materiality and agency, encourage a more sympathetic relationship between viewer and artwork, and the place/architecture within which it sits. The work consists of a 15 minute choreographic score, enacted for three different restrictive camera views and a detailed stereo audio recording. A thin mirror-finish steel disk is forged, folded, and pressed by the score participant Shelley Lasica, revealing both resistance to her actions, and compliance to her force. The manner in which Lasica undertakes her actions is sympathetic and adaptive to the object's response. All the while, the surface reflects the room, actions, and apparatus around it. The visual replay of this event within the exhibition is fractured and dispersed across three screens, while the sonic re-articulation manifests as a synchronised real time diegetic audio recording. The sum of this effect is the creation of an embodied sensorial empathy between viewer, artwork, and gallery space in which it sits.


...Emotions are orientations towards things, towards objects, towards people. Art encourages feelings: it is predicated on a viewer encountering cognitively and sensorially, an artwork towards which they may develop a position. In this way, art is implicit in the passing around of feeling. The works in this exhibition – whether concerned with voice, actions of objectness – are spaces, enclosed in artwork form, where the complexity of emotion arises. They speak from different positions but threaded through is a concern for how emotion operates in the world, nudging towards a softer, more complex and compassionate weaving of feelings through our lives."

- Zara Sigglekow, Curator, Great Movements of Feeling